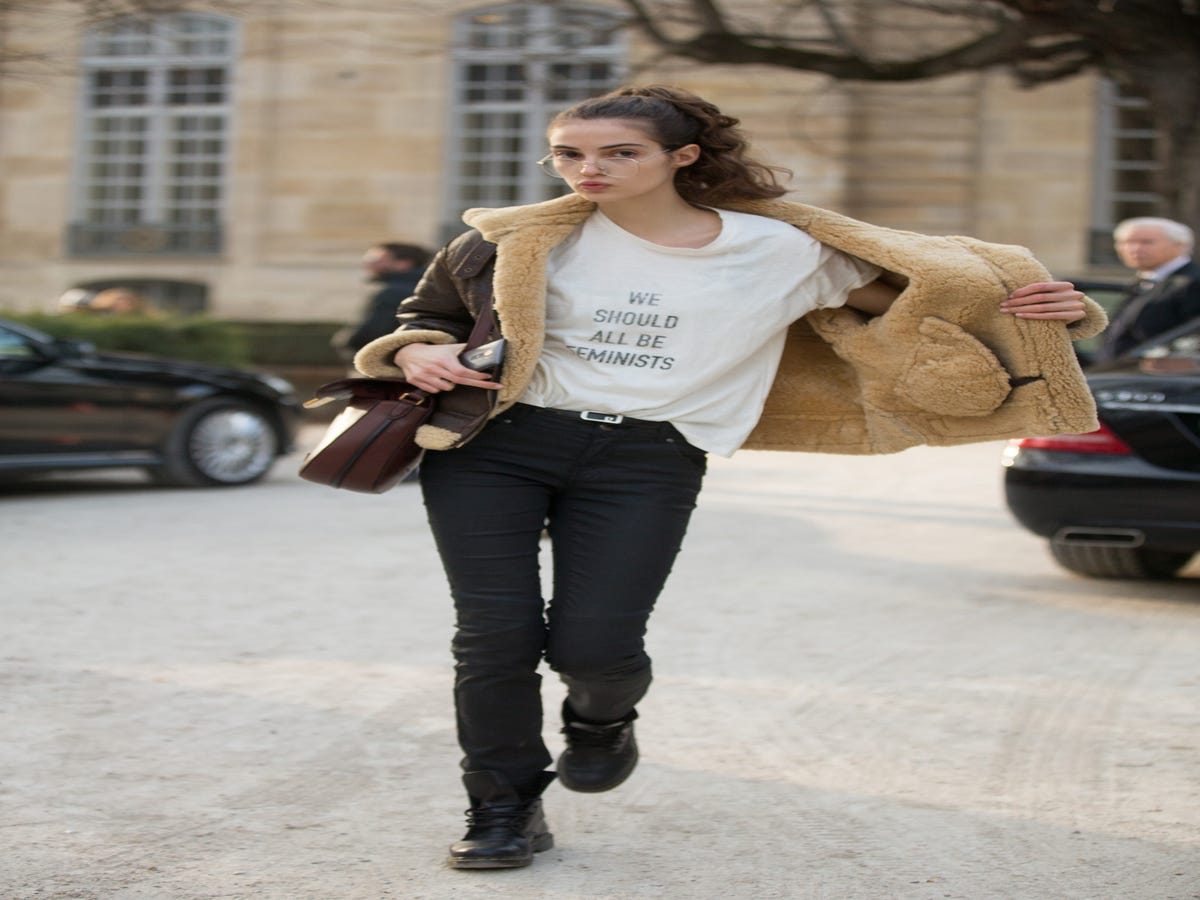 Maria Grazia Chiuri's September 2016 Dior collection didn't just signal her debut at the storied French fashion house — it launched the now-ubiquitous T-shirt heard 'round the world. Printed with the phrase 'We should all be feminists,' a quote taken from Chimamanda Ngozi Adichie's Beyoncé-sampled TED talk, the sentiment hit a nerve with those both in and outside the fashion industry. And though the garment itself was a bit divisive — 1) coming from an elitist world that propels questionable representations of women; and 2) being a product made for profit (Dior later announced proceeds would go towards Rihanna's non-profit, The Clara Lionel Foundation) — it reinvigorated conversations about fashion's role in protest, and vice versa.
A new exhibition at London's Fashion and Textile Museum explores this relationship, charting the T-shirt's evolution from conception, through Vivienne Westwood's outspoken slogans, to the feminist messages we see today. With over 200 iconic archival pieces on display, T-Shirt: Cult — Culture — Subversion, which opens February 9, shows how writing a message on a tee can bring about social change or cause shifts in culture.
Although it's one of the earliest 'fashioned' garments in history, the word 'T-shirt' was only coined in the 1920 F. Scott Fitzgerald novel This Side of Paradise. (It was added to Merriam-Webster's dictionary the very same year.) In the '50s, movie stars like Marlon Brando in A Streetcar Named Desire and James Dean in Rebel Without a Cause popularized the piece, and helped shift its reputation as underwear to outerwear
Fast-forward to the '60s and, thanks to the invention of the multicolor screen printing machine, T-shirts became cheaper and easier to produce. Because of the change in accessibility, the tee became a signifier of your cultural associations: From the tie-dye-wearing Woodstock hippies to the rock 'n' roll fans who wore the now-iconic tongue and lips tee created by John Pasche for The Rolling Stones, the garment was no longer just functional — but a way to make a statement.
Of course, those statements weren't just related to pop culture, but politics, too. Designer Katharine Hamnett has been making slogan T-shirts since the '80s, when she infamously greeted Margaret Thatcher during London Fashion Week wearing her "58% don't want Pershing" tee, to let the then-prime minister know how the majority of the UK felt about the relocation of US missiles to UK soil.
"It was huge, I had no idea it was going to become so iconic," Hamnett tells Refinery29 of the moment. "The power of the slogan T-shirt is that it's on your body, so it becomes a part of you. There's no filter." But despite the fact that the encounter became one of the most memorable political protests in modern history, Hamnett discourages us from thinking that it starts — and ends — with a worn slogan. "While these T-shirts are always relevant, whether it's anti-nuclear or anti-pollution, it's not going to save the world. You need to get out there. Jeremy Corbyn said, 'The only thing that changes a politician's behavior is something that threatens their ability to get re-elected.'"
She still, however, has some faith in the statement T-shirt — her most recent creation, which reads 'second referendum now,' centers on the Brexit vote. Because even if fashion labels themselves can't veer too close to the political, or don't get it right, as many don't (with the exception of Vivienne Westwood and Stella McCartney, she notes), clothes created outside the industry are often able to influence the decisions made within it. (Think: PETA's '90s anti-fur T-shirts, or last summer, when Frank Ocean wore a design by 18-year-old Kayla Robinson which read, 'Why be racist, sexist, homophobic or transphobic when u could just be quiet?') And that shows the true power of wearing protest on your chest.
Like what you see? How about some more R29 goodness, right here?
The Best Of Tom Ford, The Best Of New York
Why Isn't Mary Seats As Famous As Sophia Amoruso?
Malcolm X's Daughters Are Designing Socially Conscious Clothing