SUN'S OUT TUMS OUT.
Hi, I'm Kristin. I'm a plus-size lady, and to be honest, the only sheer things I usually like are sunscreen and windshields.
This is not because plus-size ladies do not look great in sheer, oh no. They look amazing!
So I decided to wear sheer clothes — with increasing amounts of sheerness — for a whole week, because trends are for everybody, and last I checked...everybody should include me.
First of all, buying and styling sheer clothes has a few, uh, logistical concerns I had not previously thought of: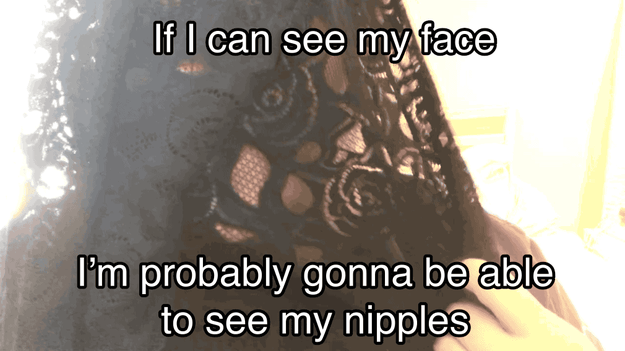 Also, it was a little harder than I thought it'd be to find sheer clothes for plus-size women — I wanted to vary where I bought the stuff but ended up buying clothes from a lot of the same stores, since (at the time when I was shopping) it was actually somewhat difficult to find cute stuff that fit the bill.
BuzzFeed
And because we at BuzzFeed love to RAISE THE STAKES: Day 1 was also the day of our Ladylike fan meet 'n' greet, and many beautiful people had very sweet things to say.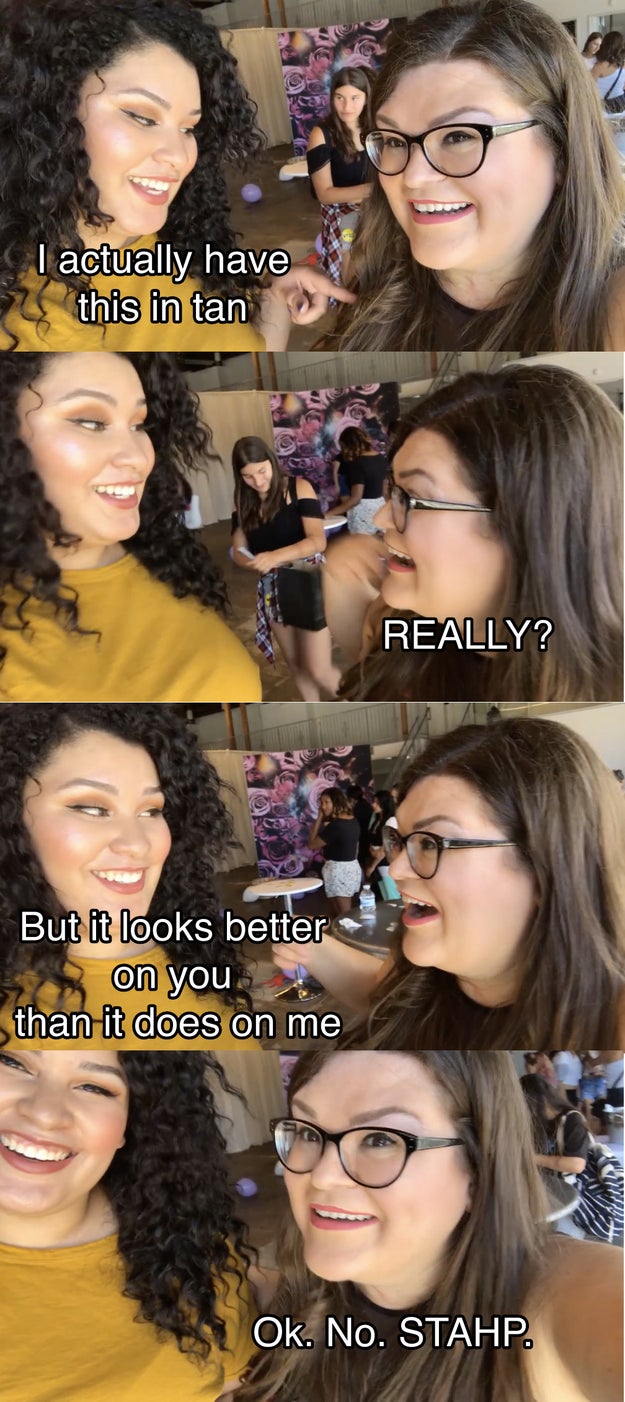 Y'all, compliments are REALLY hard to accept, especially when you're wearing what feels like the outfit equivalent of a bunch of raw footage for a movie.
They should really teach a college class on how to gracefully accept a A Nice Thought About Yourself without going into a death spiral over whether or not you're a big stupid jackass for believing it. I think it's because really believing someone requires a lot of trust in that person, and who among us would trust a relative stranger with their sandwich, let alone their feelings?
BuzzFeed
But this immediately became everyone's favorite outfit (????), as indicated by the incredible amount of deep, important work we ended up doing in this meeting: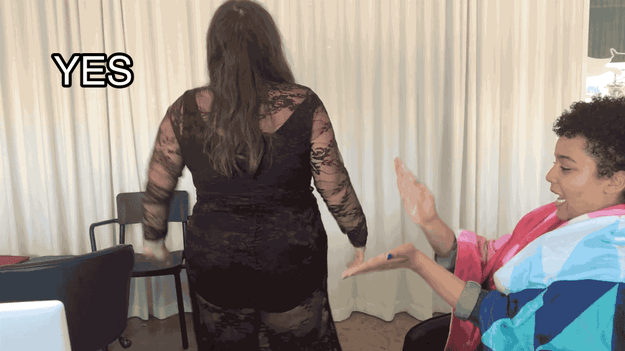 Like, seriously: I was very baffled that this was the favorite. I'm basically just going as sexy grandma's curtains for Halloween.
BuzzFeed
I took this photo post-gratuitous-coworker-compliments, and even I can tell that it looks better now because I don't feel like I'm just doing wacky stuff for fashion science.
It's amazing how just ~trying something~ can make an outfit go from being "All Aboard the Back of the Closet Train!" into one of your for-real favorites.
The major problem with a deep V neckline + sheer fabric over your boobs is that you are heavily reliant on your hair to keep yourself covered.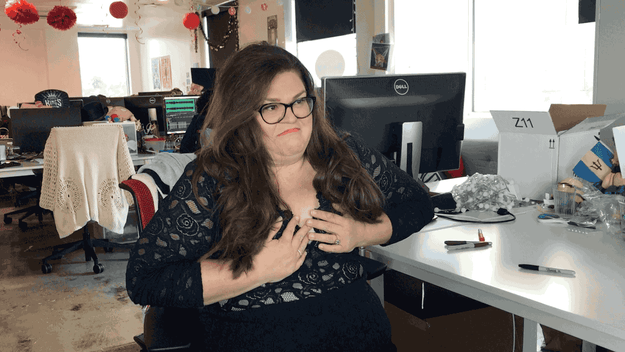 It was SUPER hot outside, and I really wanted to put my hair up, which means I had a very hard decision to make: Do I stay cool, or do I keep people from seeing my boob sweat accumulate in real time? This was probably the first day where I wondered if maybe this outfit didn't need to make it back into the regular work wardrobe rotation.
BuzzFeed
I then post this outfit to my Instagram while I'm in Palm Springs, and to my very real and significant surprise, it becomes one of my most liked photos ever.
OK, 75% of the credit goes to the diffuse light streaming through the frosted glass of the front door of this house. But I ALSO think that people love it when you take risks — real risks, ones where there are actually stakes involved. It's like gymnastics, where you get extra points for degrees of difficulty. BE YOUR OWN SIMONE BILES.
Even more intense was that this bodysuit actually looks better with my hair up, which, yikes: To me, my hair is like my beloved invisibility cloak.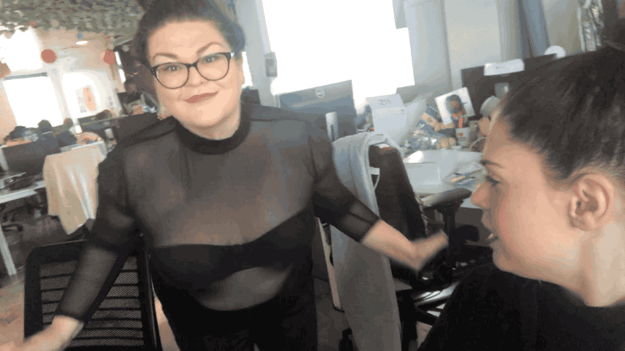 I love my hair like I would love a child were I to have one — on days when I am feeling blah, I know my hair will be here to kill the game on my behalf. But once I put my hair up, I actually felt better. It's almost like when you wear something like this you have to fully commit to it in order to feel sexy. And since I had spent the week committing to all sorts of outfits I wouldn't normally wear, it was like, well, NO TURNIN' BACK NOW.
BuzzFeed
1. Outfits I hated putting on were revered more than the clothes I actually wear, which I think said a lot about how I am actually playing it safer than I realized, and that I need to stop. that. shit. So do you!
2. I know I showed a lot of boob, but I can't help but notice that I would feel totally comfortable showing this much boob if they were hoisted up and crafted into the perfect cleavage, but showing them without support and flopping in the wind like a couple of old potatoes feels...sloppy. Which doesn't seem fair.
3. More plus-size stores need to offer more sheer options. COME ON, Y'ALL. Let's stop pretending that we're starting to think about buying summer clothes in the middle of August. WE ALL KNOW it's gonna be hot until October!